Providing Breakthrough Feedstock Solutions for Fuel Producers
Comstock Fuels' patented process converts lignocellulosic biomass into easy to use, deoxygenated feedstock for fuel producers to produce carbon-neutral, Short-Cycle Biofuels.
It's The Feedstock:

Goodbye Long-Cycle Carbon
The path to very low or no-carbon biofuels has been constrained by insufficient and unsustainable feedstocks.
And when it comes to woody biomass, the challenge has been efficiently converting its carbon-consuming and storing value into a cost-effective, plentiful stream of feedstock that is free from contaminants, and which can easily, reliably, and sustainably be used in today's existing, downstream hydrotreating and fuel production infrastructure (refineries).
Comstock Fuels has met that challenge with our proven, patented, high-yield process that nets 100 gasoline equivalent gallons or more from one tonne of lignocellulosic biomass. At commercial scale.
Short-Cycle Biofuels:

Making Decarbonization of Fuels Possible and Profitable
By breaking through the technical challenges of converting woody biomass, we unlocked the value of millions of tonnes of unused and underused waste wood, Kraft lignin, and new, sustainably grown lignocellulosic fuel crops to provide a sufficient, plentiful supply stream of high yield short-cycle Biofuel feedstock to existing and future renewable fuel refineries.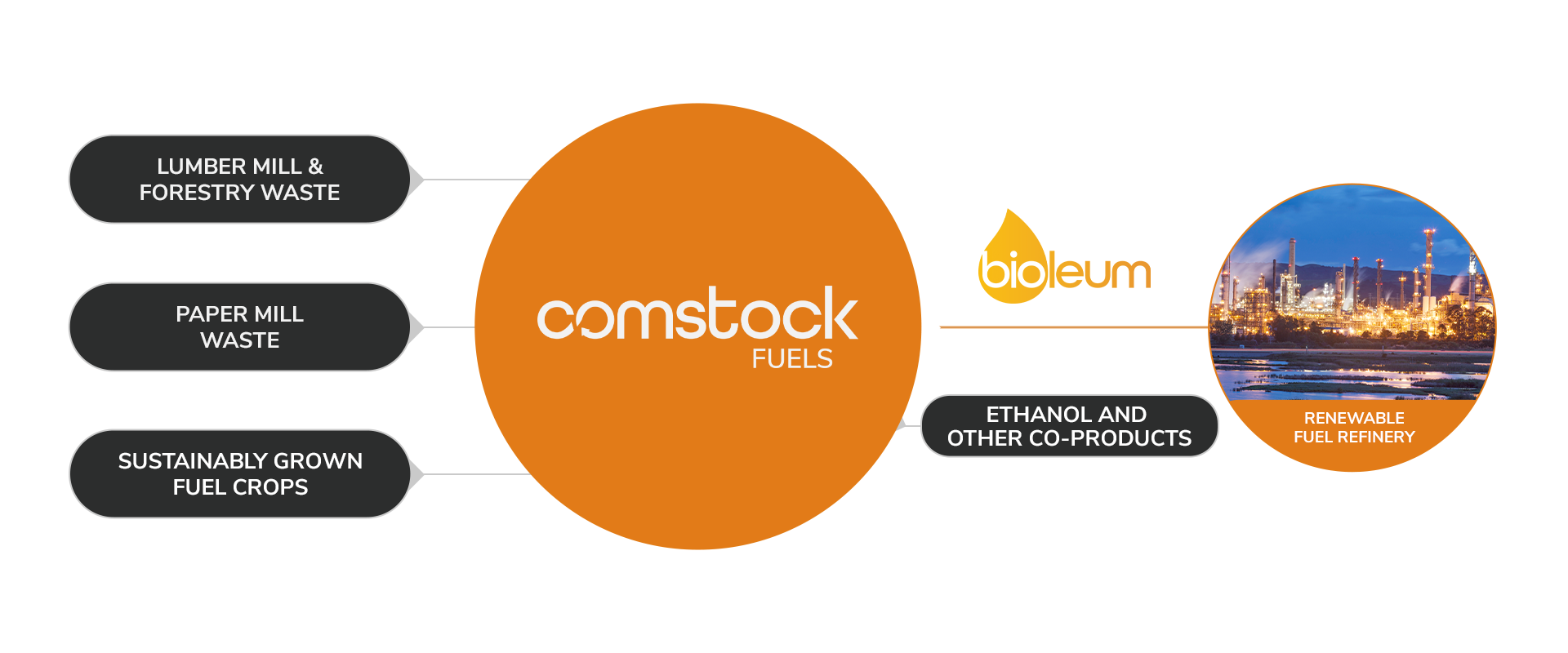 Bioleum™

is the breakthrough.
Bioleum™ is a proprietary, unique blend of deoxygenated hydrocarbons that is suitable for hydroprocessing, resulting in more than 100 gallons of low-carbon biofuels per tonne of biomass on a gasoline gallon equivalent energy basis.
Short-Cycle vs Long-Cycle: Why short-cycle carbon is better and a deeper dive into how we're enabling this sustainable new pathway to carbon-neutral and below-zero-carbon renewable biofuels.
Comstock Fuels' laboratory and pilot plant operation in Wausau, Wisconsin is home to our ongoing technology development, optimization, integration, and demonstration activities.
Pilot System Operating Hours
Learn more about how our processes unlock and efficiently convert massive supplies of under-utilized natural resources into renewable fuels. Send us an email today.